We are pleased to welcome you to our practice. We look forward to providing you with the finest dental care available as our Dentist contributes the most advanced techniques and years of experience to our team.
Common sense tells us that preventing dental disease is more rewarding and less costly than correcting problems after they occur. Good dental health is no accident. It is the result of daily home care and regular professional care. Caring for your teeth and gums is an important factor in promoting good oral health.
Many people today are concerned about the possibility of being exposed to and possibly contracting an infectious disease such as HIV/AIDS, hepatitis, or herpes through dental treatment. The chance of any infection is extremely remote. For your protection, we maintain up­to­date metho of sterilization. We will gladly answer any questions you may have about your health and safety in our office.
On your first visit to us as a new patient we will give you a complete picture of your present dental health. We will examine your teeth and all oral tissues. The examination will include an evaluation of past, existing, and potential problems. Standard dental X­rays will be taken as needed. After the definite diagnosis of your oral status we will put together a treatment plan. Your oral problems will be cured step by step by the next visits.
Our Dental Care Services Include:
Restorative dentistry (cleaning/polishing, fillings)
Cosmetic dentistry (tooth bleaching, space closure)
Preventive dentistry (Pit­fissure, sealant, fluoride application)
Tooth extraction, minor surgery of wisdom tooth
Removable full and partial dentures
Fixed dentures (crown/bridge)
Consultation and Second opinions
All emergencies of the tooth and gum.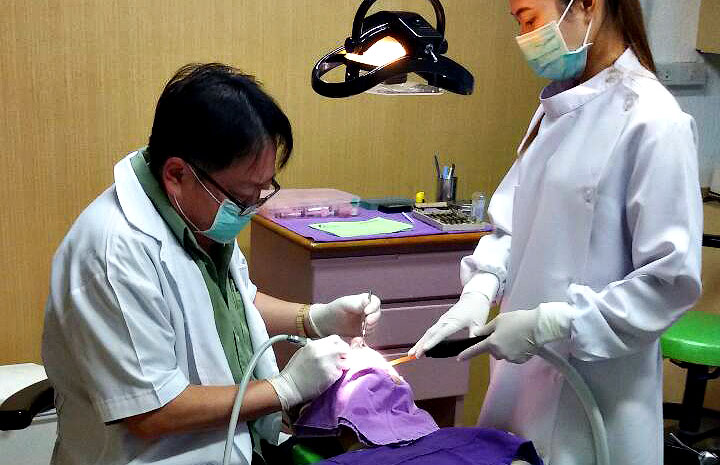 Going to the Dentist on Holiday
Dentists in Thailand are known as amongst the best dentists in the world. They have an excellent reputation and can offer a variety of skilled service. They also offer affordable treatment and during your holiday, if you have time, why not restore your teeth at extremely competitive prices ?
We are 50% CHEAPER THAN IN WESTERN COUNTRIES
which basically pays for your flight out here!
We look forward to providing you with the finest dental care available including: Check­ups, Crown, Bridge, Filling, Polishing, Extraction, Removable Denture, etc...
Emergencies
We understand that emergencies can occur. We will do our best to respond to your problem promptly. Your comfort is our immediate concern. Call us as soon as you suspect that you need to see us. We have a 24­hour answering service.
Please remember that regular care is the best way to prevent emergencies.